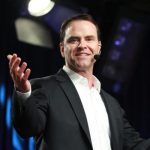 Gene's   25-year   experience   includes   spending   over   a   decade   at   Gateway Computers. While serving multiple sales leadership roles at Gateway, Gene helped Gateway  go  from  a  small  obsolete  company  to  an  $11  billion  International powerhouse that was widely known for having one of the most successful sales forces in history."
Gene  initiated  the first  Coaching  Program  toward reinforcing sales influence techniques and created the Gateway Solutions Team, which focused on specialization through key strategic sales trainings.  Gene was responsible for billions in revenue while Gateway. Known for his sharp "7-Steps  of  Selling"  presentation,  he  has  developed  a  direct strategy that can help anyone become a sales superstar. Gene's  success  at  Gateway  lead  him  to  become  the  dynamic  leader  of  Tony Robbins' Global Sales force – where under his leadership, every team broke sales records that spanned over 29 years.
—
The Leverage Black Book helps YOU to become a real Leveragist. You'll even think like a Leveragist and when you put the tools and strategies in the Leverage Black Book to use in your business!  Our advice… Get the book!