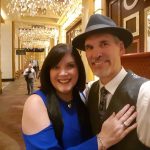 Christoff J. Weihman is a Keynote Speaker, & America's Favorite Five Star Customer Service/Customer Experience Expert. He is the Best-Selling Author of 2 outstanding books on Five Star Customer Service & Hospitality; Getting to WOW! & The Customer Experience.
He is the Founding President of the National Customer Service Association (NCSA) Las Vegas Chapter.
His Company ASPIRE Enterprises is a Customer Service Training & Consulting Company that specializes in teaching, training, & empowering companies and organizations to elevate the Service they deliver to their clientele. He has spoken in front of thousands of Industry Professionals all around the country, from a variety of companies-large and small, inspiring, motivating & empowering them to bring their Customer Experience to the next level-the level of Five Star, First Class, World Class-WOW! Customer Experience.
His passion is Service Excellence. He is highly sought after as a Keynote Speaker, Trainer and Workshop Leader, Radio & Television Guest.
Christoff lives in Las Vegas with his wife Michelle, and their 3 puppies, Lilly, Carly & Bruno.
He has brought his Five Star Customer Service training to internationally recognized companies such as MGM Resorts International, Mandalay Bay Hotel & Casino, New York, New York Hotel & Casino, The Bartenders Union, and California Pizza Kitchen, just to name a few.
—
The Leverage Black Book helps YOU to become a real Leveragist. You'll even think like a Leveragist and when you put the tools and strategies in the Leverage Black Book to use in your business!  Our advice… Get the book!