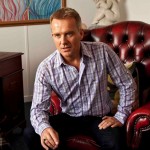 You'll have to listen to today's Leverage Masters Podcast to find out!
Today I had the wonderful privilege of interviewing Glenn Harrold, a world-renowned hypnotherapist, author, and musician who has helped thousands of clients over a wide range of stress related problems. He has combined his hypnotherapy skills with an extensive recording knowledge to produce a uniquely effective series of high quality hypnosis recordings that have sold over 7 million copies and are well established as the UK's best selling self-help audio titles of all time.
Topics:
The Leverage of Passion
How things fall into place when you are on your right path
Leveraging other bigger channels to get more fans and sales (great example here!)
How gratitude and being kind affect your business and your whole life for the better
Free Resources
Check out Glenn's YouTube Channel for great free videos that will give you a taste of Glenn's great work. Also, see his app "Relax and Sleep Well" in Google and IOS app stores for more great full samples of his work.