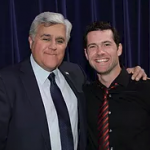 Bronkar Lee isn't your typical keynote speaker. His unique background includes touring Europe as ringmaster to a world-renowned circus, appearing with Jay Leno on the Tonight Show, and beatboxing with his 18-month old son in a viral video that received over 125 Million views. Pulling from these vastly different experiences, Bronkar provides a refreshing perspective on how to lead with confidence, clarity and purpose — regardless of job title. 
Bronkar has always been deeply fascinated by music and sound — the effects it can have on our physiology, the power it has to change our attitudes, and the potential it has to connect humans together in positive ways. He plays multiple instruments (including drums, saxophone, guitar, Native American flute, and voice) which he's incorporated into live performances and presentations for over 20 years, weaving them seamlessly into powerful techniques for improving communication, collaboration, and creativity.
Bronkar delivers an innovative and unforgettable experience — engaging audiences while sharing valuable tools and techniques for acquiring the skills they need to stay relevant in their own industries and take action towards personal and professional success.
Rainy Suggs has been involved with communications, marketing, and online businesses for over 15 years. In 2011 she began her journey into the world of personal development work through the Essence of Being workshops. This work was pivotal in changing the direction of her life. In 2013 she began working as the Atlanta Workshop Director and Enrollment Coordinator. Since 2013 she has held 7 events in the Atlanta area. She completed her teacher training program in 2015 and is now focused on her apprenticeship and will go on to teach the Essence of Being workshops. She serves as a co-leader of the Women's Prosperity Network Atlanta chapter.

—
The Leverage Black Book helps YOU to become a real Leveragist. You'll even think like a Leveragist and when you put the tools and strategies in the Leverage Black Book to use in your business!  Our advice… Get the book!