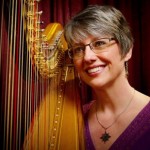 Amy Camie is a classically trained 'spiritual' harpist, recording artist, composer, author of "Loving Life…all of it – A Walk with Cancer, Compassion and Consciousness," public speaker, and member of The Wellness Universe.
She has presented over 200 seminars and workshops on "Music, Vibration and Compassionate Connections." 
Her solo harp CDs have been used in several pilot research studies indicating how they support brainwave and immune system, and reduce pain, distress and anxiety levels. Amy's music calms the mind, relaxes the body and gently touches the soul.