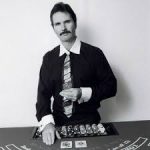 Dustin Marks, former Blackjack Dealer and Player who cheated the Las Vegas Casinos out of money, is one of the few, maybe the only cheater who went public with his antics. 
Dustin Marks is, without question, one the most successful blackjack cheaters in history.  Possessing an uncanny ability to remain calm under pressure and the talent to perform undetectable sleight of hand under fire, he was employed as a blackjack dealer by several casinos in Las Vegas during the 1980s.  While under the watchful eye of casino surveillance systems and pit bosses, he beat the casinos and WAS NEVER CAUGHT!  
Dustin Marks is the author of the ground breaking books Cheating at Blackjack and Cheating at Blackjack Squared. He has appeared on dozens of TV shows on The History Channel, The Discovery Channel, and The Learning Channel. Dustin directed and performed in the DVD: Cheating at Blackjack, the Real Work from L&L Publishing
—
The Leverage Black Book helps YOU to become a real Leveragist. You'll even think like a Leveragist and when you put the tools and strategies in the Leverage Black Book to use in your business!  Our advice… Get the book!