Podcast: Play in new window | Download | Embed
Subscribe: RSS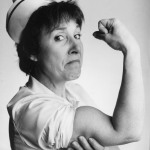 Candace Campbell, DNP, MSN-HCSM, RN, CNL, FNAP (aka:Candy The Nurse ) has worn two hats for many years; one as a healthcare professional and the other as an artist  An Oregon native, Candace Campbell came to the nursing profession through a circuitous route. After earning a BA in Speech Communications/Theatre, and working as a flight attendant and PR rep for Pan American World Airways, she experienced a career epiphany one day en route to Karachi, Pakistan from New Delhi, India, and felt "called" to become a nurse.
Her nursing career began in Psychiatry, working with many Vietnam Vets at the VA Hospital in Southern California. That experience led to research within the medical community about PTSD, and the moral distress of medical personnel working in a war zone.
Candy (as her friends call her) began her clinical practice in neonatology in 1989. She received her Neonatal Certificate and specialty training at Loma Linda University Medical Center, where she gained experience working with neonatal heart transplant cases. She has also worked bedside as an RN in Labor and Delivery, ER, ICU, CCU, Home Health. Administratively, she served as Program Nurse for the California Department of Children's Health in the Northern CA Newborn Hearing Screening project.
To connect with Candy Campbell, reach out to her publicist: AndreaAdamsMiller@TheREDCarpetConnection.com 419-722-6931
—
The Leverage Black Book helps YOU to become a real Leveragist. You'll even think like a Leveragist and when you put the tools and strategies in the Leverage Black Book to use in your business!  Our advice… Get the book!