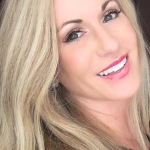 Melissa has received numerous awards & accolades: the 2017 Rising Star Award presented by NBC University; she appeared on t Influential People Magazine in November 2017; & she is a 2017 Presidential Lifetime Achievement Award Winner, presented by former President Barack Obama. 
In addition to sharing her story and inspiring audiences through speaking, Melissa has put pen to paper and authored four books.  The first, and most personal,  Lessons from Neverland, is a gripping memoir of her true life story of loss, betrayal, and hopelessness transforming into miracles, grace, and inspiration.  Melissa has also written three eBooks: 7 Step Formula to Viral Video Marketing; How to be a Host; and Be an Expert Interviewer for Television and More. 
She has since been appointed Creative Content Producer for E360 TV Network. And she is the Founder and CEO of Globex Multimedia Group LLC; Globex TV Network; and Partner of Montalvo Media Studios L.L.C.
Currently, Melissa reaches over 186 million screens per month on her weekly television series, The Melissa Hull Show (formerly, The Ripple Effect), a show which highlights the positive impact everyday heroes have on the lives of others.  Her show can be seen on E360 TV, which is distributed on multiple Over-The-Top (OTT) Networks including: Roku, Apple TV, Amazon, HULU, and Chromecast.
Access to Melissa's expertise is available via exclusive webinars; one-on-one business consulting; booking her for speaking engagements; and sponsorship through her TV show and network. Learn more about Melissa…
—
The Leverage Black Book helps YOU to become a real Leveragist. You'll even think like a Leveragist and when you put the tools and strategies in the Leverage Black Book to use in your business!  Our advice… Get the book!