Podcast: Play in new window | Download | Embed
Subscribe: RSS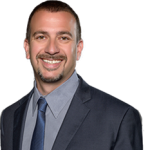 Rich Goldstein is a registered US patent attorney. He founded the IP boutique firm, Goldstein Patent Law, nearly two decades ago. Rich's firm specializes in patent prosecution, representing small businesses, start-ups, and inventors in their quest to obtain patent protection.
To date, he has obtained nearly 2,000 patents for his clients. He has also led business, sales, and personal growth workshops and trainings for thousands of people throughout the United States. Rich is passionate about IP, learning, achieving, and helping others achieve success and personal and professional fulfillment. In addition to writing about patents, he enjoys writing about the leadership, personal development, and marketing practices that he has discovered work best.
Rich graduated from the State University of New York at Stony Brook in 1991, with a degree in electrical engineering, and from Brooklyn Law School in 1994. He was admitted to practice before the United States Patent and Trademark Office in 1993, and before all state and local courts in New York in 1995.
—
The Leverage Black Book helps YOU to become a real Leveragist. You'll even think like a Leveragist and when you put the tools and strategies in the Leverage Black Book to use in your business!  Our advice… Get the book!