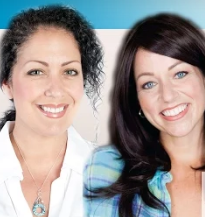 Founders of TheWellnessUniverse.com, Anna Pereira and Shari Alyse have created The Wellness Universe, an evolutionary community platform of over 1200 vetted members (and growing daily) who are positively impacting the world in one or more of the 7 areas of wellness.  
Gathering this world- changing community and offering them a fully interactive space not only provides the members the opportunity to share their services but also provides the public with a platform that is geared completely towards their total well-being. The Wellness Universe is the bridge between those who provide wellness resources and those who seek it. 
Having just recently been dubbed the "Nice Facebook", their mission is to have every single person who visits The Wellness Universe walk away feeling better. Their ultimate vision for The Wellness Universe is world peace. Anna and Shari believe this is achieved through people of healthy mind, body and spirt. They believe those who are living a life with this balance will create a ripple effect and will in turn help others to create a healthy and balanced life.
Follow Wellness Universe on Facebook